We begin this post about international transport so that you can better understand what it is and you can use it to improve your business and be able to expand markets and have more opportunity to sell abroad.
International transportation is the term we use to describe the delivery of goods from one country of origin to a different country as a destination point. destination point.
Expanding your customer base is a crucial step when a business is growing and many business is growing and many companies start on a local stage, because when their products sell very well, the products sell very well,
internationalize your market
is only a matter of time. It is at this point that the transport service to other countries becomes a key point for the growth of a company.
Transvolando's international transportation allows you to access thousands of customers and break the geographical barriers of your company through a process of importing and exporting goods or products between different countries by road.
An international shipment can be complicated as there are several rules and policies to comply with, so you should entrust this task to an expert company such as Transvolando. Keep in mind that some countries have stricter policies than others and prohibit the importation of certain products, so it is important to leave it in specialized hands.
We start this post about international transportation explaining what it is all about because it will surely help you to improve your business, expand markets and sell more.
Advantages of Transvolando's international transportation
Our experience gives you guarantees

guarantees you confidence when it comes to carry out your international transport in a total way, leaving you to take care of the rest of your company's

the rest of your company's issues, we take care of the transportation.

We operate the supply chain in a 100% secure manner.

We offer a full service solution with a single point of contact for each shipment. This way you will always know who to contact in case you need to make any last minute changes or new special requests, such as stops or stopovers on the route.

Our management system allows us to optimize and follow step by step the routes of our fleet during the transport service.

On our website you have at your fingertips a

system of quotation almost instantly with advice from our fully personalized team.

Conquer new European markets because we provide you with coverage throughout Europe (whether you are part of the EU or not).

We have an expert team that is at your service to help you and optimize your transport management. Ensuring it is efficient and safe from start to finish. Our drivers take care of your goods from the loading process to the unloading at destination.

We are

cost-effective because we design a travel plan to guarantee the profitability of the service and offer you the best prices in the market.

We help you identify key areas for improvement in your supply chain.

We are experts in




logistics




We take care of intermediating between production companies. Therefore, logistics issues will no longer be a problem for you with

we

.
3 aspects to take into account in your international transport of goods
Gathering all shipping information and submitting it on the required form is crucial to completing the international freight shipment, as completing the documentation and providing required documentation can be challenging, and a single error can result in a failure. and cannot be transported due to customs, the following must be taken into account: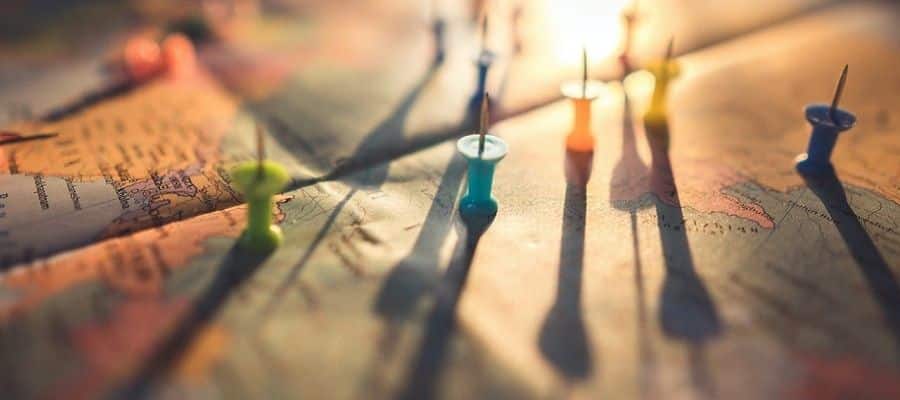 Provide complete and accurate information
You must share with Transvolando all the information about the characteristics of your transport in order to transport in order to complete the international shipment. This is crucial because only then we can complete the international shipment correctly.
Follow-up
Through our route optimization and tracking system from Transvolando we manage to reach the destination within the established date.
High level fleet
At Transvolando we have our own fleet of large trucks for transporting
machinery
and merchandise of
large volume
(even with a load capacity of up to 41 tons).
We have gondolas ideal for the transport of goods, heavy and agricultural machinery as well as a hydraulic platform ideal for transports that require a lateral load.
Customs Management: International Routes for Exports
The customs process is a critical and key step in an international shipment. To do it successfully you must manage it correctly and we are experts in the organization and execution of all types of international transport of goods: We collect documents and execute the customs process correctly. We guarantee it.
For certain countries, it is necessary to manage customs services correctly in order to make your international transport a success and count on with our experience in this field will give you peace of mind because, knowing perfectly the rules and regulations, from Transvolando we will inform you with total transparency of the customs costs in advance to avoid surprises.
Urgent international transport
For a company to enter the European market, which may seem unthinkable and a great challenge, you need to find a transport company to advise you on this so that you do not find yourself alone and without knowing what to do about how to act when faced with shipments and the circumstances that may cause each shipment.
Before you start exporting, we recommend that you answer these simple questions.
Identify your market niche: What makes my product different and what differentiates it from the rest of the market?

Check your competition: What other brands or companies in my industry are already operating in Europe and where?

Adjust to the market: How will you market my product in European countries? Keep in mind that selling in Spain is not the same as selling in Finland.

Check the adaptability of your product to this new market: Will my product work as is? Should I make any adjustments to better adapt to the new market?
Once you have the answers, simply contact us and we will help you reach millions of new customers. And we achieve this with an excellent quality of service.
Contact us:
+34 674 346 912
info@transvolando.sedigital.es
Address:
C/ Empleo, 28 Nave 10 28906 – Getafe (Madrid, Spain)
How to get there?
Do you need anything else…?
Many times we need the support of something more than words.
If we can help or accompany you in this process of choosing our services, please contact us and we will get back to you as soon as we put the brakes on!
Budget
If you are here, it is because you need a freight forwarding service and we are sure we can do it!
Ask us for a free quote.