We are going to show you 20 original ideas for recycling tires and thus be able to give life again and give them a second chance, in addition to contributing to the sustainable recycling of this product and avoid this great ecological problem for the planet and our ecosystem.
More than once we have stressed the importance of giving life to objects that are no longer useful, in this case tires, which are a big problem to leave lying around because they take more than 10 centuries to degrade. Today we are going to show you a few DIY tips to give them a second use. In addition, if you are a handyman and lover of crafts you have no excuse, we make it very easy to redecorate and furnish those empty spaces and without light that sometimes we do not know what to do with them.
Before we start and give you ideas on how to reuse those used tires, we want you to know that you should never use them as planters for edible plants, since tires release toxic chemicals through their components, which is not recommended.
20 original ideas for tire recycling
1. A bed for your pet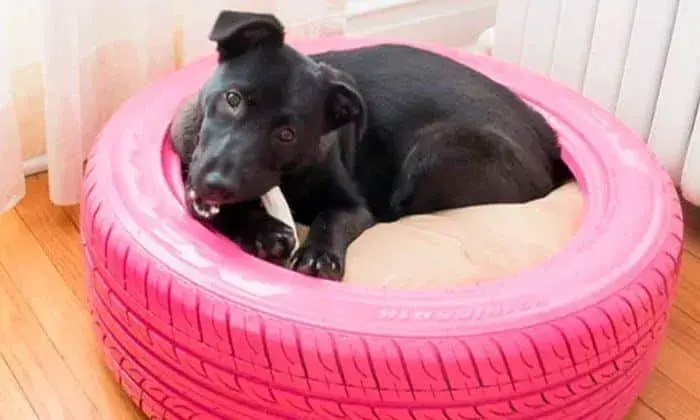 It's a great idea to make your dog or cat feel as comfortable as possible in your home. On top of that, you save having to wash the cover every so often, and on top of that, you get the satisfaction of having created that pleasant space of theirs as their resting place.
2. Outdoor ceiling lamps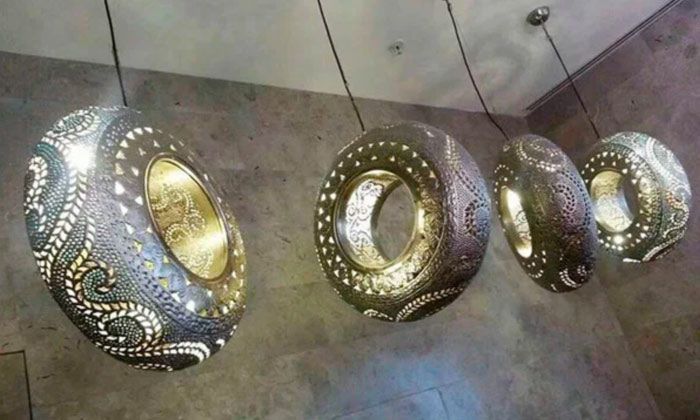 Forget about getting frustrated in shopping without even knowing what you want to get. With this idea you will make your house different from all the others and original.
3. Coffee table covered with rope
Super cheap and comfortable, and if you want you can add wheels so you can move it and place it wherever you like. An easy, beautiful and creative solution.
4. Planter
We have already explained the consequences of using it as a pot for edible plants, but for any other type of decorative plants it is very attractive, simple and original.
5. Mirror frame
As simple as taking the outside of the tire and using it as a mirror frame. Then you can paint it any color you want, to make your bathroom or the entrance of your house more than fun.
6. Subwoofer
A creative and different way to listen to your favorite music and a priceless decorative element.
7. Swing
Very typical, but at the same time fun and original where the kids will play like crazy.
8. Sandbox
By simply screwing a cardboard base to the bottom of the tire and filling it with sand, you have a great little solution for your little ones to experiment and play with.
9. Stairs
Well integrated with nature you can create a small path to the entrance of your house of the most comfortable and original for your garden.
10. A chair
Lining it with your favorite fabric and adding a touch of creativity you can get that dream piece of furniture for that cute corner of your house that you don't know what to do with it.
11. Tea table
A little touch of paint, some wheels on the bottom and a glass on top will be more than ideal for tea.
12. Hanging planter
Very similar to the conventional planter, but with the addition of a strong rope you can hang it anywhere in the house, to give it that rustic touch.
13. Garbage deposits
By stacking one tire on top of another you can get a space where you can deposit your garbage at the same height so you don't have to bend down.
14. Training room
Yes, as you can hear, with a little skill and creativity you can create some seats to make your workout effective, comfortable and original at the same time.
15. See-saw
With half a tire you can create a great source of fun for the little ones in the house.
16. Umbrella stand
How many times have we wondered where to leave the umbrellas, well, by making a few holes in the tire we can get a great comfortable and useful place to leave the umbrella so that it does not bother us.
17. Play castle
In the 17th place of our 20 original ideas for recycling tires and for the little ones, in the end there are many ideas to make life more fun for the little ones.
18. Outdoor sofas
The best idea to decorate your terrace, easy and cheap. You will have an original outdoor space. With some cushions on top you will spend the most pleasant moments there.
19. Tool storage
By placing one tire on top of another, we can create a large and spacious space to store those tools that you don't know where to put in the garage.
20. A house
The last of our 20 original ideas for recycling tires is A HOUSE.
Do you need anything else…?
Sometimes we need the unwritten. If we can answer your questions about our services, please contact us and we will get back to you as soon as we can!
Budget
If you are here is because you need a freight forwarding service and we are sure we can do it! Ask us for a free quote and we will get back to you shortly.