In the transport industry, the most widely used form of planning is pallet or groupage transport, which accounts for around 90% of all road transport. When talking about palletized transport, it is essential to see how the most efficient systems have evolved to achieve greater productivity, space and cost savings.
In this case, ehe use of this type of transport is created in order to teach a new form of transport and thus, to hold the product or container and to be able to organize and stack it inside a vehicle for its transport by road. This is how the evolution of transport came about with the so-called palletization.
Pallets
Pallets are rigid platforms or structures used to group goods together to form a single load unit, in order to simplify their movement in transport or storage.
They can be made of different materials:
Wooden.

These are the most common. It is estimated that around 90% of all pallets used are made of wood.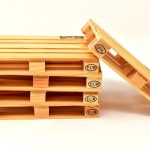 Plastic.

They are the most used in the chemical industry due to their particularities in certain platforms for the shipment and storage of goods.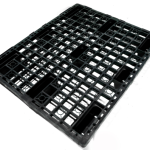 Cardboard. They are widely used in the food industry as they are single-use and thus guarantee optimal food hygiene conditions.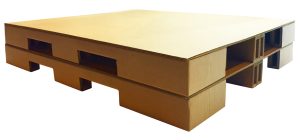 Metal. Mainly made of steel, they are less used because their price is higher, although they are undoubtedly the most resistant and durable, so the price factor is compensated by having a longer useful life.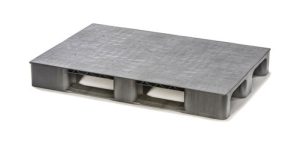 Calculate your budget
The guarantee and reliability offered by the use of the pallet
The pallet began to be manufactured in different sizes, depending on the dimensions and weight of the load to be transported or stored. However, the growth of exports and the globalization of markets promoted the search for a standardization that homogenizes pallet measurements in order to achieve more efficient transportation and storage of goods.
European Pallet
Also known as europallet, which measures 1,200 x 800 mm, it is the most widely used on the European continent as it is adapted to the dimensions of the interior of trailers (2,400 mm).
Universal Pallet
It is known as American pallet, measuring 1,200 x 1,000 mm, it is the most used in the American and Japanese markets and is widely used for the transportation of liquid goods.
Pallet strength
Pallets are considered to be highly resistant structures, which we can define by three types:
Compression, which determines the maximum load that can be withstood.
bending, which must be taken into account when using slings for lifting
On impact, if there is a fall or heavy blow.
Merchandise on pallets
Palletization is one of the most efficient methods of bundling or loading goods in the transportation sector.
According to this system, we place the goods on the pallet, usually made of wood, and it is retracted to immobilize the packages and to form a compact block of square or rectangular shape, depending on the base and height measurements. In this way, palletized goods constitute a unit load that can be moved and handled by mechanical means such as forklifts, cranes, etc.
The height of the goods to be loaded on the pallet depends on the strength that the pallet can withstand, especially in compression. For this reason, it is important to confirm its resistance before grouping the goods on it and, thus, avoid future inconveniences in transportation.
Advantages of pallet transportation
The
palletized transport
offers multiple advantages over other types of transport due to its easy handling and transfer, as well as its transportation and storage. For loading and unloading work or movements with pallets, mechanical means are used, such as forklifts, cranes, pallet trucks…
With this type of transport, considerable savings in vehicle space (storage) and fuel costs can be achieved.
The dimensions of the European pallet make it fit perfectly in 2,400 mm trailers, being able to place two or three side by side, depending on whether the base measurement of 800 mm or 1,200 mm is taken as a reference.
On the other hand, a cost reduction is achieved, precisely because of the savings in storage and fuel costs, since on the same route you can make several deliveries to the same destination or to nearby destinations or on the same route.
Fewer personnel are needed for loading and unloading or movement tasks, since these are carried out by mechanical means, which also reduces the time required for these tasks.
These types of pallets are reusable, except for cardboard pallets, which are single-use pallets, thus saving costs and being more environmentally friendly.
The commitment to groupage in transportation is backed by its success in deliveries
The combination of several pallets in the same transport generates a guarantee for the client in which his trips are economized since the "shared load" also known as groupage is generated.
Several shipments can be made on the same route, which generates cost savings for both customers and transport companies.
There are two types of service within this modality:
Full load:

The truck is filled with cargo from the same customer.

Groupage:

Several loads from several different customers or several loads from the same customer are grouped together to fill the container or trailer that go, generally, to the same destination or town.
With this form of shipping, long-distance transport becomes more accessible for many smaller companies due to the lower costs, since they are only paying for the space occupied.
At Transvolando we are specialized in the transport of palletized goods, both nationally and throughout Europe.
We have daily routes that connect the main Spanish and European cities, so we can guarantee an agile delivery within 24 hours and keeping the goods in perfect condition.
Contact
+34 674 346 912
Address:
C/ Empleo, 28 Nave 10 28906 – Getafe (Madrid, Spain)
How to get there?
Do you need anything else…?
Many times we need the support of something more than words.
If we can help or accompany you in this process of choosing our services, please contact us and we will get back to you as soon as we put the brakes on!
Budget
If you are here, it is because you need a freight forwarding service and we are sure we can do it!
Ask us for a free quote.